Cloud storage
What is Cloud Storage ??
Cloud storage is defined as "the storage of data online in the cloud," wherein a company's data is stored in and accessible from multiple distributed and connected resources that comprise a cloud.
Cloud storage is a model of computer data storage in which the digital data is stored in logical pools. The physical storage spans multiple servers (sometimes in multiple locations), and the physical environment is typically owned and managed by a hosting company. These cloud storage providers are responsible for keeping the data available and accessible, and the physical environment protected and running. People and organizations buy or lease storage capacity from the providers to store user, organization, or application data.
Cloud storage services may be accessed through a 

colocated

 cloud computing service, a 

web service application programming interface (API)

or by applications that utilize the API, such as cloud desktopstorage, a cloud storage gateway or Web-based content management systems.
The Best Cloud Storage and File Sharing Services of 2018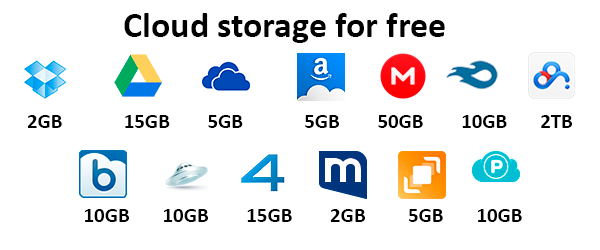 Source : steemit.com
Types of Cloud Storage
There are four main types of cloud storage — personal, public, private and hybrid;
1. Personal Cloud Storage
Also known as mobile cloud storage, personal cloud storage is a subset of public cloud storage that applies to storing an individual's data in the cloud and providing the individual with access to the data from anywhere. It also provides data syncing and sharing capabilities across multiple devices. Apple's iCloud is an example of personal cloud storage.
2. Public Cloud Storage
Public cloud storage is where the enterprise and storage service provider are separate and there aren't any cloud resources stored in the enterprise's data center. The cloud storage provider fully manages the enterprise's public cloud storage.
3. Private Cloud Storage
A form of cloud storage where the enterprise and cloud storage provider are integrated in the enterprise's data center. In private cloud storage, the storage provider has infrastructure in the enterprise's data center that is typically managed by the storage provider. Private cloud storage helps resolve the potential for security and performance concerns while still offering the advantages of cloud storage.
4. Hybrid Cloud Storage
Hybrid cloud storage is a combination of public and private cloud storage where some critical data resides in the enterprise's private cloud while other data is stored and accessible from a public cloud storage provider.
Benifits of Using Google Cloud Storage  :
Integrate storage into your apps with a single unified API
Optimize price/performance across four storage classes with Object Lifecycle Management
Access data instantly from any storage class
Designed for secure and durable storage
Reduce data storage carbon emissions to zero