List of Best Reference Books For Chemical Engineering (GATE Perspective)
As we all know, In today's time GATE i.e. Graduate Aptitude Test in Engineering is only the sole deciding factor for getting recruitment of the engineering graduates into the coveted Public Sector Undertakings (PSUs) and admission for post graduate degrees at all IITs, NITs and Indian Institute of Science (IISc).
GATE is a competitive examination conducted jointly by seven Indian Institutes of Technology (Delhi,Bombay,Kharagpur, Guwahati, Kanpur, Madras and Roorkee) and the Indian Institute of Science on behalf of the Department of Higher Education, Ministry of Human Resources Development (MHRD), once a year.
Today GATE is the single exam for freshers as well as experienced guys which tests the student's Aptitude as well as his academic knowledge. From chemical engineering point of view irrespective of other branches , where reputed coaching institute (such as Made Easy ) is available but for chemical branch not a single (According to present scenario) coaching is good. All coaching institutes looks for maximizing there profit just by hiring faculties who are either pursuing there M.Tech or some who just mugged up some confined notes.
I always use to get n number of messages daily regarding which is the best coaching institute or which test series should to join for GATE exam. Personally I recommend neither join any coaching institutes nor to join there test series. Since faculties who are conducting exams themselves are not of that mark who even can judge others true potentials. Better not to join Coaching(in order to save your time and money perspective ) , Focus yourself on self-study more. Today a number of good resources are frequently available in market ( frequently you can get from internet (Google))
So friends If you are looking for good reference books which can help you not only in getting good score in GATE but also in enriching basics concepts of chemical engineering, here I am listing some books (from best of my knowledge) are :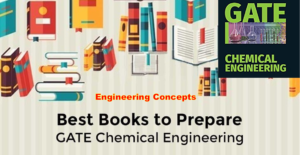 List of Best Reference Books For Chemical Engineering (GATE Perspective)
1) Follow NPTEL ( For Awesome Video Lectures)
2) Heat Transfer  –
3) Fluid Mechanics –
4) Mass Transfer –
5)  Process Systems Analysis and Control
#GATE IMPORTANT VVI BOOKS
Chemical Engineering Objective Books 
Chemical Engineering GATE Question Paper
For Mathematics (Aptitude & Reasoning)